My cell phone rings and it's central station from my alarm company informing me someone pushed the medical emergency button back at my house. I was leaving my father's house anyway at the moment as I climbed onto my 1990 Yamaha Venture Royale in a panic to cover the 2 miles back to my house as fast as I could. The call was a false alarm, no one in the family had pressed the button, but I was not happy any longer pushing this giant bike through the back roads, especially when in a hurry. The bug for a second smaller bike was born and it just so happened a co-worker was selling his 1996 Triumph Thunderbird. I didn't even know Triumph came back to make a 2nd generation Thunderbird. When someone first told me it was for sale I dismissed the idea of buying it but then I asked for pictures and my mind began to change.
The Thunderbird was introduced in 1950 and it was Triumph's largest vertical twin at 650cc, it remained in production until 1963. In 1995, Triumph re-introduced the Thunderbird 900, an 885cc three cylinder engine made to look air cooled but with an obvious radiator up front. The T-Bird is a not too big not too small machine with just enough get up and go to make it fun. It doesn't specialize in any kind of riding style, its most outstanding feature is there are no outstanding features. It's simply a great balanced bike of size and power that does just about everything fine in a well rounded manner. Some have written the bike was overbuilt as Triumph was trying to shake the reputation of their bikes being unreliable. I would have to concur with that thought as the bike looks and feels as solid a bike as I have ever been on.
The bike came into my possession in May of 2007, by late summer of that same year I became fixated on photos of a T-Bird sporting Champion Side car side bags. The folks at Champion didn't make mounts to fit their bags on Triumphs so I had wondered how this was done. A little digging revealed that the bike's owner knew the owner of Champion and had mounts custom made for his bike. Oh to have those bags! Well, some times wishes come true. One day while browsing the triumphrat.net web site, I came across a member up in Canada wanting to sell the hard bags from a Triumph he just bought. This gentleman had actually bought the bike I saw out on the web and was trying to get rid of the bags that came with it! After price negotiations and dealing with customs, those very hard bags were in my garage all the way from west Canada and ready to be custom painted to match my bike. To this day I think I have the only T-Bird outfitted with Champion Sidecar bags.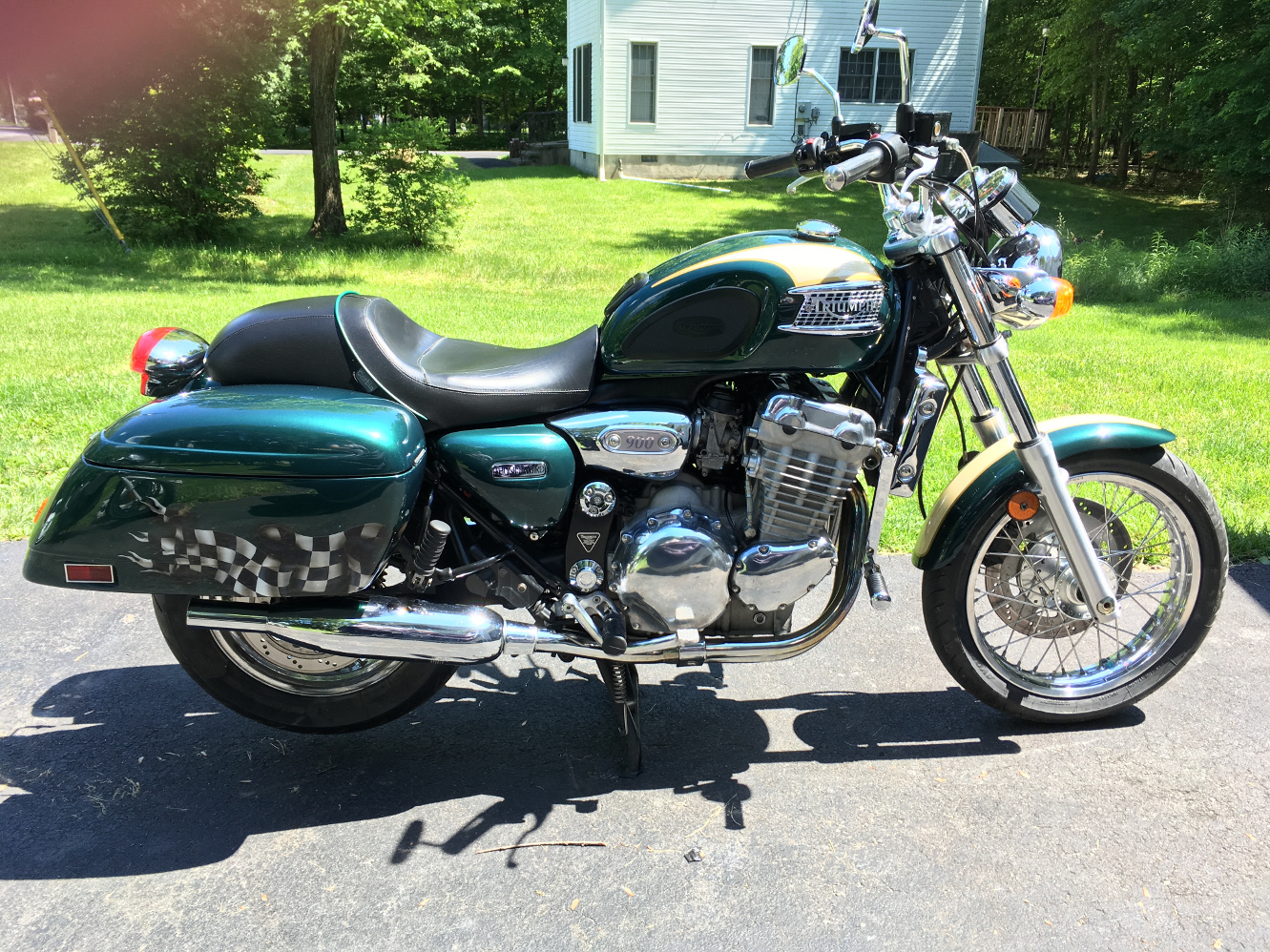 By 2010 I had entered the beginnings of a divorce. How ever hard someone may tell you a divorce is, just multiply it by 10 if you want some sense of the stress and financial dilemmas you may go through. Those years brought me to the point of selling the Bird by 2012 and the hopes of owning a classic some day evaporated. Cutting back down to one bike at that time was the right thing to do as much as it pained me to see it go. I left one final thought with the new owner which was that if he ever decided to sell it, I'd most likely be the buyer he needed.
By the fall of 2015 I would become that buyer as the owner only had the opportunity to put 65 miles on it over three plus years! It was returned to me not running but a disassembly of the carbs revealed that they were put back together incorrectly. It was an easy fix to get her going again. Some labor in shining it up, particularly the aluminum engine cases, has really brought its looks out in full force. The three cylinder engine is a unique blend of low end grunt with a smooth top end. The story makes me think of the lyrics in Alan Jackson's song, "I never should have sold her, I'll always love her she was mine. I'll never sell her she's mine forever I love her so…"