Growing bored of the potholed roads of North East Pennsylvania, we decided to sample some of the pavement of North NJ into NY State. While we were at it, why not stop at a NY distillery to sample some spirits you don't normally see in the local liquor stores?
This is a summer of seemingly relentless humidity and heat. So much so you would almost think of not taking a ride and hunker down in the central air with a movie. But we donned our meshed gear and helmets outfitted with our SMH10 headsets and were on our way.
A quick hop over the border and we were heading north on Rt.94 in New Jersey. A quiet and well maintained road, it was the perfect setting for getting in the zone for the day. Rt.94 turns into Rt.206 in Newton which then turns into Ross Corner Sussex Rd. at the intersection of 206 and 15. I took a glance to my left to catch a glimpse of Yetter's Diner, a meeting place back when I owned by first motorcycle. As far as I know, I'm the last one still riding from that group. Eventually we went through the town of Sussex where our northern path turned to Unionville Ave or Rt.284. We branched off onto Bassetts Bridge Rd which changed names a few times until we were on Little York Rd. to the parking lot of the Warwick Valley Winery & Distillery.
My vision of a small tucked away distillery vaporized the moment I saw the multitude of cars filling the lower gravel parking lot to capacity. Maneuvering an 860+ pound bike with two people on it over gravel proved to be pretty exhausting. We had to make our way more towards the top of the lot and by the time I pushed the bike into the grassy parking slot I felt myself blacking out. Not feeling right in the morning, combined with the heat and ever increasing candles on the cake, led to a moment to remind me I'm not at my peak anymore as I sat there for a moment on the bike just collecting myself. Denise and I joked how they'd just have to leave me there in the pile of steel and flesh had I fallen.  The combined weight of the bike and myself makes for 1150 lbs which may have become a permanent fixture in their parking lot!
Blankets and lawn chairs began peppering the lawn while live music played to entertain those having a bite to eat from the outdoor food stand. I learned that the Black Dirt spirits are part of the Warwick Valley Winery and Distillery. They constructed a 4,000 square foot distillery with a 60 foot distillation column to produce 60 barrels of whiskey every week. Denise treated me to their 350 ml bottle of Single Barrel whiskey without any taste test as the crowd at the taste bar was too thick at the moment. No taste test was necessary however as this bourbon is outstanding. I'm not sure if it's the corn that's grown in the black soil (yes, it's really black) but this is a bourbon with layers for flavor that won't disappoint. A nice treat once we got home. While sitting in the shade regrouping with a little lunch, I realized on my iPhone map we weren't all that far from Orange County Choppers in Newburgh. We quickly altered our return trip to include the extra miles to stop by.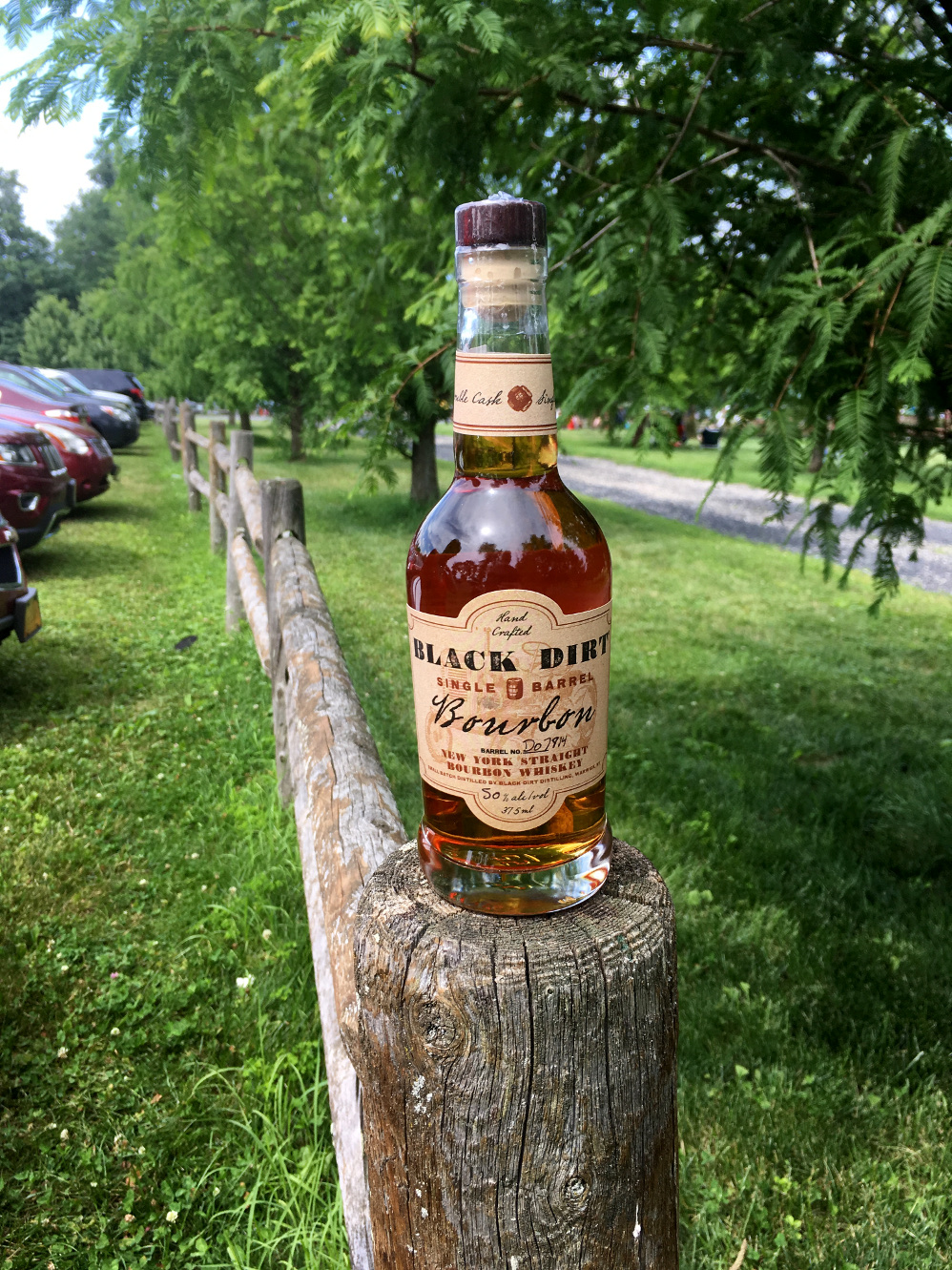 Route 17A to 17 and finally 84 would have us there in just 32 miles, but the trip came along with the horrifying view of a motorcyclist lying unconscious on a stretcher along the east bound side of 84 while the EMT crew attended to him. I never found anything on the web about this incident, it was a stinging reminder though that motorcycling demands your utmost attention.
Wikipedia describes OCC as a motorcycle manufacturer and lifestyle brand company. It only takes a moment after entering the revolving doors where you're smacked in the head with the "lifestyle brand" part. Only the collection of motorcycles along the perimeter of the large room keep you from thinking you may have accidentally walked into the clothing department of Macy's. Jackets, shirts, hats, gloves, Paul Sr. brand jeans (really Paul?) and more filled the place with prices only a die hard OCC could stomach. The $3 glass of seltzer water in the cafe should give you a clue. A few bowling alleys and a stage for that night's band performance were seen while making our way to the cafe for a break from the road. These guys sure do make beautiful bikes and it was great seeing some of their work up close. I tried reading up on the property auction, law suits, and how Sr. doesn't get along with Jr., etc. and I just got bored with it all. I'm not sure how a bunch of guys who make bikes could come up with so much drama but it seems they found a way. Overall it was a place worth seeing once unless you're into over priced clothes that'll advertise the business. It was one of those "yeah, we were there." things and that's about it.
Somehow we managed to coordinate our departure from OCC with the arrival of rain clouds from hell. We pulled away just as the first drops fell and I made the mistake of following the GPS commands in my headset which kept us in the rain longer than we should have been. Going with my gut and heading directly south into clear skies would have been a better bet. You can always figure another way home in the sunshine later.
As we wait for the several years to count down towards retirement and free us to ride for weeks at a time, it seems NY State and it's Winery/Distillery routes are going to pass underneath our wheels quite a bit over the next couple of summers at least.